Vehicle Pawnbroker
Hock
a

Car

for

Cash
Get a Cash Loan in Minutes
Pawn your Car, Motorbike,
Boat, Truck or Jet Ski
Borrow $500 up to $200,000
When You Need Money Fast
Even If You Have Bad Credit!
Contact Sydney's Vehicle
Pawnbroker Specialist
☎️ Harry Hock


(02) 9630 9968
Hock a Car for Cash a Sydney vehicle pawnbroker provides a fast and easy lending service allowing you to pawn your vehicle and borrow money the same day.
Hock
a

Car

for


Cash Premium Service
Negotiable Rate

•

No Setup Fee

No Repayments

•

Pay Later Plan
Vehicle Pawnbroker
As a vehicle pawnbroker, our convenient money lending service allows you to pawn your vehicle and obtain a short-term no credit check cash loan by using the value of your vehicle or watercraft asset as loan collateral.
What Amount Will We Lend?
Irrespective whether you require a small $500 short-term cash loan or large $200,000 short term cash loan. We can help!
Get Cash in Hand
What Vehicles Do We Pawn?
When you're considering to obtain a cash loan against your car or borrow a loan on your motorcycle or loan against your boat, the make or model is unimportant. We lend money against most types of vehicles and watercraft. 
Can I Pawn My Prestige Car?
Whether you own a $10,000 Audi, $20,000 Ford Mustang or $200,000 Mercedes Benz. There's never a problem only a solution to pawn your loved one here.
Vehicle Pawn Loan Process
Visit our vehicle pawn shop with your asset and ownership paper.
When I Pawn My Vehicle
How Fast Do I Get My Money? For your convenience we'll process your loan in just minutes and provide cash or an immediate bank transfer to an account of choice.
Hock
a

Car

for

Cash
Car Pawnbroker

We service all of metropolitan Sydney and New South Wales providing a simple and fast way of raising money. Hock a Car for Cash your local Sydney car pawnbroker specialist.
With more than 35 years combined industry experience, as a Car Pawnbroker, Hock a Car for Cash, Sydney's Premier Vehicle Pawnbroker will ensure that your experience is private and confidential, even if you have bad credit. Learn more.
Need to Pawn your Vehicle?
Visit - Hock
a

Car

for

Cash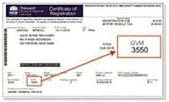 Provide: Vehicle Ownership Paper.
Provide: Your Identification.

We Assess
Your Vehicle.
Finalize Amount
Sign Paperwork.
Receive Cash
or Bank Transfer
Benefits - Conditions - Process
What Our Service Offers
Vehicle Pawn Loan Benefits
Negotiable interest rate and terms.
No setup or late payment fees.
No Repayments for 90 Days.
Vehicle Pawn Loan Conditions
Preferably your vehicle to have nil finance owing. However, should finance exist, please contact us to discuss further.
Fast Loan Process
Vehicle and ownership assessment.
Finalize loan amount required.
Complete and sign the paperwork.
Receive Cash or Bank Transfer immediately.
More Information
Frequently Asked Questions
What is vehicle pawn loan?
A vehicle pawn loan is a cash loan that can be obtained when borrowers pledge a vehicle or similar asset as loan collateral. To secure the debt owing the asset is retained by Hock a Car for Cash until such time as the loan is repaid. Upon finalizing the loan the vehicle is returned to the borrower.
What fees do vehicle pawn loans incur?
Interest charged is not relevant to your credit worthiness but the amount you intend to borrow and value of your asset you intend to pledge. To estimate fees charged it is a requirement that we view your asset.
What amount can I borrow on my vehicle?
Whether you require a small $500 cash loan or large $200,000 cash loan. If you own any one of the vehicle or other assets listed. We can help!
How do I repay my vehicle pawn loan?
We offer the first 90 days no repayments necessary. Then final repayment upon redemption of asset.
However, to reduce your debit you do have the option to make instalments any time, this being your choice. 
How do I obtain a vehicle pawn loan?
Does it matter if i have bad credit?
Your good or bad credit worthiness is not a reflection in obtaining a cash loan as you are pledging your vehicle as collateral by handing over the vehicle to us until your loan is completely repaid.
Pawn Your Vehicle Loan
Online Quote Request
Submit form and we'll contact you.